December 22nd, 2013
I love bright, bold color, AND I love white and black and all the neutral grays, greiges, taupes, and everything in between. Because I love so many different color palates, it's so hard for me to choose color for important things… like the front door.
Mr. Project and I designed the front door with a farmhouse feel to it. Bringing in the X motif that we've sprinkled throughout the house in various built-ins. It turned out perfect, and I absolutely love it.

But now it's almost time to pick a color. Scary!! The whole house is going to be painted white, so that's easy – any color goes with white.
Whenever I have to pick, well, anything, I look at a million images to help me narrow down what I love and don't love.  Here are my favorite front door fab color inspiration photos (via houzz).
A very classic and timeless black door.
Navy is on trend this year. Like black, but more friendly and hip:
Especially if you have dogs hanging around.
And close to Navy, but definitely more of a personality color – teal (my leading favorite right now.)
This peacock green version of teal is my to-die-for color. Do you think i can pull it off?
And of course the bright turquoise… which I don't think I can pull off at all.
I love this cheery yellow color. Somehow it just works.
Even brighter yellow still. Love it with the white house.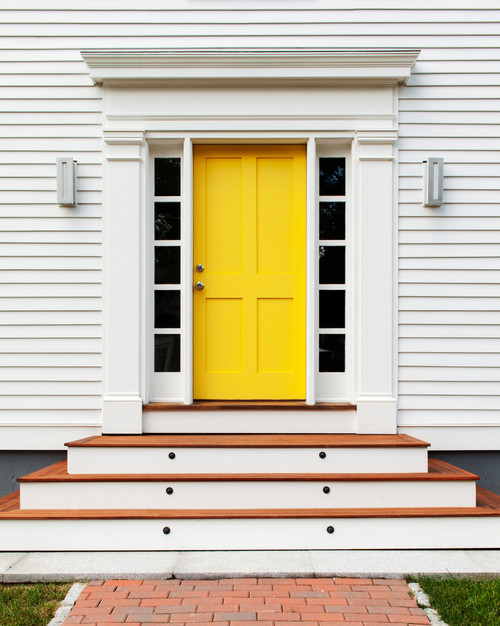 And back to the classics – Red door on a white house. Love it!
Modern version of a red door – a bright red door.
And then there is this understated taupe. This looks pretty amazing. Maybe If I don't have the guts to pull off the greenish teal, I'll fall back on a safe-but-lucious taupe.
So that's my inspiration. What color do you like best?
If you're in the same boat as me and are looking for a front door color, I compiled 28 hand-picked colors that I think are great for front doors. Be sure to PIN IT for future reference and SHARE IT with friends too. And good luck picking a front door color! (wish me luck too.)