November 30th, 2013
Who doesn't love the occasional painted floor? I think they look so beautiful and bring so much character  to a room.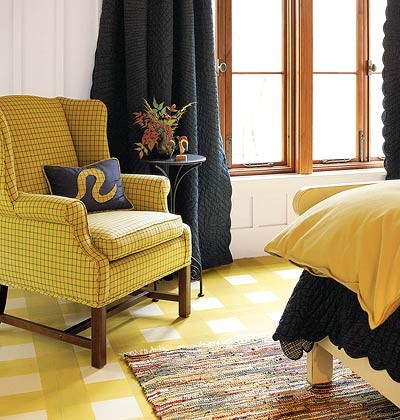 My craft room has a cement floor. Originally, I was thinking engineered wood flooring. But then I thought about how awesome a painted floor would look in the space.
Mr. Project is not so convinced that it will look nice – or that I'll actually do the work myself (I hate painting!), but I think it will really make the room unique, so I'm motivated. Hopefully that motivation will get me through!
So now all that is left is to pick a design… I love the idea of a simple stripe or diagonal stripe like above. But there are so many awesome stencils… These are the ones that are in the running
So which one do you like best? I'd love to know what you think. I'm not sure about colors yet, but so feel free to recommend colors. Should I go bold or neutral? Or do you just think I'm crazy?! I think I may be a little crazy to take on this project.
Oh and I found all these awesome stencils at
Royal Design Studio
. Has anyone used one of their stencils or similar for a large project?