June 4th, 2013
The past few weeks of house planning have been so stressful! We submitted to the architectural committee and were pretty nervous for a bit not knowing if we would have to start all over on the exterior design. But the plans came back with the all clear and we are good to go! So we've moved on to finalizing all the last little details and passing along the plans to engineering. Now that we know this is all going to work out, I've got to get all the rooms planned and finishes picked out pretty quickly. I've been gathering lots of inspiration on houzz.com, and searching for budget products for the past few months, so it's really just a matter of making that final decision (easier said than done, right?)!
We're focusing on a "modern farmhouse" kind of style, with a bold black & white palate with lots of warm wood accents. Here are my material and product choices for the kitchen:
Moving onto the actual kitchen, here is the layout:
After having no uppers on the window side of
my old kitchen,
I loved the look way too much to go back to the standard of having upper cabinets. So I put lots of windows in this room, and kept the visual space open and airy. In this view, you see the range & range hood, and the door into the pantry. There will actually be an island in front of this wall of cabinets.
These cabinets will be painted Black Satin (Benjamin Moore). They'll have the white quartz countertop, and white 3×6 subway tiles (BuildDirect) covering the entire wall. I'm thinking about painting the pantry door a fun color like chartreuse (citron BM), pale emerald (Lehigh green BM), or bright aqua (peacock blue BM).
And speaking of the island, we wanted it to be a unique piece and have a furniture feel, but because there is a sink and dishwasher we were pretty limited to the design. So we decided to make the seating side of the island look like a farmhouse table – made of rough-sawn oak – and the sink side of the island look more like a cabinet. Here's Mr. Project's initial sketch:
This is what we ended up going with – a wider sink side with the table intersecting the island. I'm really excited to see how this thing shakes out!
The cabinets on the sink side of the island and the fridge side of the kitchen will all be a pale green-gray (Benjamin Moore's Gray Cashmere). The open shelves on this side will be white (swiss coffee) and they'll be backed with a v-groove paneling also painted white. 
The far wall of the kitchen (to the left of the stove wall)  will be the dining area. All windows (yay) with banquette seating, a dining table and  chairs. The subway tile is continued around the windows for some continuity and a little farmhouse charm.
On the opposite wall of the stove, the dining area has two more windows, and the banquette seating wraps. The empty space is looking into the family room, and the slatted area is a double-sided fireplace.
And since that was all a little bland to look at, here's some eye candy that will help you visualize. This kitchen has no upper cabinets and tons of windows. Lovei t of course. And the white subway tile is just classic. The ceiling has v-groove paneling on it. Love that look.
Here is a long kitchen with a windowed banquette. I love all the pillows and comfy seats. Again simple subway tile for a backsplash.
I absolutely love this kitchen, it's a great example of a modernized farmhouse. The subway tile, no upper cabinets, butcher block countertop, and lots of windows. Love the industrial touches as well. The gray color is what I'm going for with my Cashmere Gray cabinets.
This picture shows how I want my refrigerator side to look. Gray cabinets with white open shelving: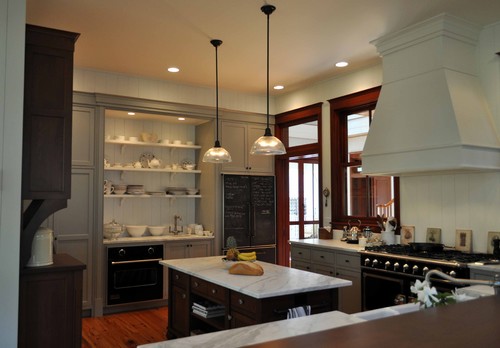 And these black cabinets are just so gorgeous, I hope mine turn out just as smooth and beautiful as these. With Mr. Project building them, I'm sure they will be!
So that is the plan for the kitchen, I think it's going to look striking and beautiful. I can't wait to get started and actually see it come together into a gorgeous space. Hopefully you made it this far, if you did, I'd love to hear what you think!
*A special thanks to BuildDirect for sponsoring this post. BuildDirect.com has killer prices on high quality tile and since I'm a huge home source budget shopper, I'm more than happy to refer you to them for all your tile and flooring needs. The 3×6 subway tile they sell is perfect and so shiny (it also comes in a 4×12 size!), and the best part is that they'll ship you a free sample so you can see it for yourself before ordering. Check them out if you are working on a home project of your own!
**This post contains affiliate links. To see my full disclosure statement, visit my sponsor page.